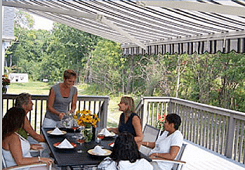 You and your wife love to entertain, especially in the summer. Before you purchased your own home, she was often heard saying, "Nothing is more important than matching party goods." She always got rave reviews on her gourmet cooking as well as the colorful theme of the matching plates, napkins, serving ware, and cutlery. Everything was lovely. The condominium you were renting had a nice little patio where a few people could hang out and it was shaded by Eclipse retractable awnings, making it always cool and comfortable so it was nice for entertaining and private times. Sometimes, the two of you would take Friday afternoons off and share special moments under the Eclipse retractable awning, dreaming and planning your future together.
You soon moved out of the tiny condo and purchased your wonderful new home. What a fun challenge it was to make that huge patio an extended outdoor oasis living space. With the help of Eclipse Shading Systems® products and Sunbrella fabrics, you spend as much time as possible relaxing and enjoying the summer in style. Sunbrella fabrics are made in America and are GREENGUARD certified, helping to protect our environment.
Eclipse retractable awnings offer comfort on the hottest summer days and protection from the damaging UV rays of the sun. Fabrics by Sunbrella have proven to provide up to 98% protection from the effects of the sun. It's comforting to know that your Eclipse awning keeps you cool and safe.
From the awnings to the living room furniture, patio upholstering, throw pillows, and even the kitty bed fabric is in coordinating Sunbrella colors and patterns to complement your life…indoors and out. You and your wife take advantage of all that extra living space and relax more often, enjoying all the matching low maintenance Sunbrella fabrics. And when you get around to calling your local Eclipse Shading Systems dealer about having an awning installed on the front porch that fabric will match too!
LIFE UNDER THE AWNING