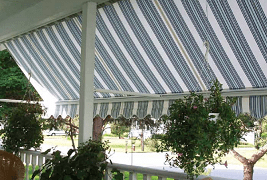 Create a backyard oasis in full sync with the Eclipse shading system that will fit the needs of your family and look great on your home. Your home and yard are designed to match and you want a retractable awning system them go well with the design you already have in your surroundings. Your new retractable awnings will complement the well-planned landscaping you have worked so hard to maintain. Modern awning fabrics offer you colors and patterns to give you the perfectly coordinated look you want. You can even match your patio furniture upholstery to your awning.
Awning fabrics have come a long way from ancient linens and early 19th century metals that rusted easily. The technological breakthroughs in modern synthetic fabrics create long lasting, durable outdoor awnings. Some solution dyed acrylic awning fabrics can last up to as much as ten years before needing replacement. Modern awning fabrics are laminated to protect against mildew and can also be flame retardant. Eclipse Shading Systems® awning partners – Sunbrella, Dickson, and Ferrari contribute to creating one-of-a kind awnings and that are held together with the strongest thread available – rain resistant, UV protected Gore Tenara thread.
Add style and function to your home with UV protecting, energy saving awnings that provide cool comfort while you relax outdoors and keep temperatures cooler indoors, preventing fading of your upholstering. Eclipse retractable awnings are the best awning in the world. With so many to choose from, there is one that right for your home. There is an Eclipse dealer near you!
THE ULTIMATE SUNBLOCK™