You purchased an old house that needed a lot of work and everyone has been pitching in to restore this charming home to its original beauty. Preserving historical buildings, residential and commercial is what you do, so working on your own home has been a lot of fun for you and your family.
You have worked on historical buildings that are over 300 years old and know that there are many modern, more energy efficient options in home renovation products and materials that are made to look like they have an antique feeling. Maintaining the integrity of your historical structure doesn't mean skimping on modern improvements such as central air conditioning and front and back porch retractable modern awnings from Eclipse Shading Systems®.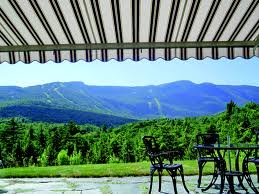 Protecting your historical restoration with the best awnings in the industry keeps porches cool and indoors cooler, which will save you money on energy bills. Blocking out the glare of the sun will help to prevent fading of your upholstery and carpets. You made sure to take full advantage of Eclipse shading products and have retractable solar screens indoors on the side windows, an attractive retractable awning on the back porch, and a drop shade in the front to block out the late afternoon sun. When you have couples afternoons, it's fun to have the gals out back and the guys on the front porch or vice versa. Last week the guys hung out back to watch the game. Right now, you are playing cards on the front porch thoroughly enjoying the shade provided by Eclipse making your outdoor shaded areas feel like added living space, and loving it!
LIFE UNDER THE AWNING