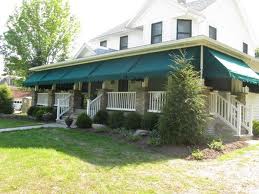 You bought your first home at a great price but it needs some work. You know you'll live here for a while and hope to raise a family on this block in this neighborhood. Once you have moved in and are comfortable with the inside of the house, new paint on the outside along with purchasing new awnings will give the property some curb appeal. Those old rusty lime green striped awnings need to be replaced. You want a modern look and your choice of color and style along with affordable, energy saving, durable top line technology…not your Grandma's awning. Look no further than Eclipse Shading Systems®. We have everything you need.
Eclipse Shading Systems custom made retractable awnings, a great selection of fabrics, and cutting edge technology offers you the most modern, durable, and affordable construction available in today's shading system market. When you purchase Eclipse shading products and accessories, you can be sure of durable, affordable construction with outstanding customer service. It is our promise to deliver "Eclipse Excellence" to every customer. Our professional experts will help you find the shading option that is right for you!
Eclipse retractable awnings provide a cool outdoor oasis on your deck, porch, or patio, protect you and your family from the harsh and harmful rays of the sun, and create a more energy efficient home. Retractable awnings installed on your home will help save on cooling in the summer months. Our custom awnings create solar shade that can reduce heat gain inside your home by as much as 77% and reduce sunlight and glare by as much as 94%. Awnings and solar shades also protect your carpets, draperies, and furniture upholstery from fading by blocking the sun's rays. Invest in the future of your home with modern custom-made Eclipse retractable awnings that match your lifestyle and enhance the comfort of your home for many years to come.
THE ULTIMATE SUNBLOCK™