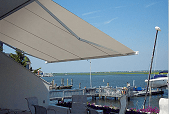 You were able to get to the beach house early in the spring to check on everything and make sure there was no damage from winter weather. There were only some minor repairs and the one thing you had no worries about was the Eclipse retractable awning. Since then, all you can think about on weekends is when you'll be able to load up the van and take the family to relax and hang out in that beautiful ocean air.
An afternoon at the beach is always refreshing, even though the water is still a little too cold to jump in, that never seems to bother the kids. You both enjoyed a beach picnic and watched the little ones play on the shoreline, and then you all walked back to the house to get the sand off and enjoy the rest of the afternoon on the back porch under the Eclipse retractable awning.
Your newest accessory from Eclipse Shading Systems® is the Drop Shade and once you unroll it, the low late afternoon sun stays in its place…on the other side. It's always fun to end the afternoon with no sun glare, sitting in your loungewear while the kids play games and color, already in their pajamas.
When you add the Eclipse Drop Shade accessory to your retractable awning you can take full advantage of spending time outside on the deck. Your Drop Shade accessory offers the same touch-of-a-button operation as your awning.
In an hour or so, you'll have salad then drop the lobsters into the steam pot to enjoy your favorite summertime feast under your Eclipse retractable awning. The evening finale will be lifting the Eclipse Drop Shade to watch the sunset over the ocean.
LIFE UNDER THE AWNING