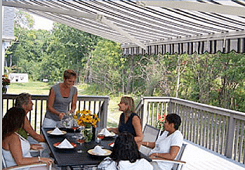 Since you had your Eclipse Shading Systems® awning installed, and the weather is getting warmer, you've had a couple nice family afternoons sitting on the back patio. Today, you find yourself longingly looking to outdoor activities and wishing you had time to relax alone on the porch. You figured that unless you were sick and staying home from work, you'd likely never find that alone time under the awning.
Oh, but then you figured it out! You figured it out. You remembered that you have flexible hours at work and decided to adjust your schedule for the summer months. If you go in a half hour earlier than usual, you can get home a half hour earlier – before everyone else begins to arrive. That will leave that shady patio open exclusively for your quiet time before you hit the trenches on your second job of making and cleaning up from dinner, then getting ready for the next day to do it all over again.
It's your first year with your Eclipse retractable awning and it sure is changing how you live during the summer months. With expanded outdoor living, you can entertain more often in cool shaded space. With a backyard oasis, you can relax more often. And with an Eclipse retractable awning on the outside of the house, it keeps the indoors cooler too, saving you money on air conditioning costs.
You have been looking for some 'me' time and you found it…every afternoon, on the patio, under the Eclipse retractable awning.
LIFE UNDER THE AWNING