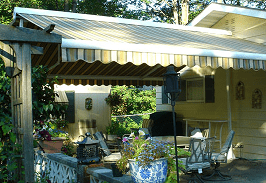 It's almost spring and you know what that means, homeowners. It's time for home improvements! This year, you don't even need to review your mental list. An Eclipse retractable awning is the most important change you need to make for your family's protection from the sun as well as cooling comfort during leisure time. Eclipse Shading Systems® select dealership in Danbury, Connecticut has walked you through the steps to having your home shaded with the best retractable awnings in the industry.
Kevin always wanted to have his end of June birthday party in his own backyard but it always got too hot. His tenth birthday this summer will tell a different story. As the kids arrive and follow the balloon signs to the back yard gate to join the party, you have some games set up to play.
There's a game of volleyball in progress and the three-legged race is on. As the winners cross the line and are proclaimed, everyone gathers for a fun birthday lunch on the deck where they can cool off and have more fun under the Eclipse retractable awning.
Founded over 100 years ago and continuing to grow, Durkin's Inc. has provided countless satisfied customers with Eclipse Shading Systems products.
Their experienced shading consultants helped us select the best option for our home and our budget and we also had over 200 choices of fabric colors and designs.
We'll have a contest of pin the tail on the donkey, blow out the candles, enjoy ice cream and cake, then open presents. Busy and fun day! Enjoy fun time and down time under the cool shade of your own Eclipse retractable awning.
LIFE UNDER THE AWNING