Your three sisters are coming over to do arts and crafts with the kids. Why is your home the 'go to' place? Because you have an outdoor room with a floor that can be hosed off when they are all done. Doing art projects outdoors on the shaded back porch keeps the mess manageable and keeps the kids safe from the dangerous rays of the sun with Eclipse retractable awnings.
Eclipse Shading Systems® retractable awnings have so many advantages for the homeowner. When colorful retractable awnings are installed on a home, it creates curb appeal and raises the value. Your retractable awning will stop the sun from radiating through walls and windows and keep indoor temperatures so much cooler. You can continue to enjoy a warm day even if there is a little rain, and you get the ultimate solar protection for your skin.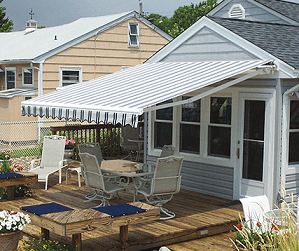 If you like to sit outside in the evenings when the air is cooler, try the Eclipse Solar Beam Infrared Heater and get the extra warmth you want while you can continue to read, have dinner, or entertain under the glow of the Lunar Eclipse Lighting Package. Eclipse takes outdoor living to a new level with the best shading products and accessories in the world.
There are six kids from three to five years old cutting and pasting, painting, and playing with clay while the Moms relax on the lounge chairs, only available for emergencies! Keep the mess outdoors and the clean up easy. The garden hose will handle the deck floor and kids can wash their hands. Keep the giggles and laughter coming!
LIFE UNDER THE AWNING