When you were on vacation, you enjoyed the many rest stops and passageways on the scenic paths of your morning hike with shading provided under the pergola. You have a big backyard and already enjoy the shading of Eclipse retractable awnings on the deck, but now you would like to have a pergola passageway shaded with a SunRoof Plus between the garage and house. It's a quiet spot to sit and read or relax with a cup of coffee and the shading would add to the ambiance.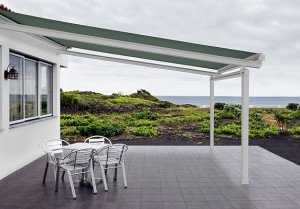 Not only does the Eclipse SunRoof Plus offer you a peaceful outdoor retreat, you also get three-season dual protection from sun and rain. SunRoof Plus shading awnings are available up to 19'8" wide with 16'5" projection or 16'5" wide with 19'8" projection. The Eclipse SunRoof Plus at the large size is Class II wind speed- rated and can withstand winds up to 23 miles per hour. You'll have operating ease with a wireless wall switch or handheld transmitter and when you are not using your SunRoof plus awning, simply retract the fabric into the aluminum cassette box.
The Eclipse SunRoof Plus is a rugged and reliable shading option that is available in two styles, Patio – attaches to an existing wall, or Pergola – mounts on top of an existing structure which can be freestanding. Which one is right for you? Enjoy your Eclipse SunRoof Plus retractable awning through sun, rain, or wind. You can count of the protection of Eclipse.
THE ULTIMATE SUNBLOCK™