Rising energy costs means higher residential utility bills. The best way to avoid these increases is to shade your home, which will reduce energy use up to 30%. During peak sunlight hours, heat inside your home can be reduced by as much as 77% with the use of exterior fabric retractable awnings and window awnings. Because awning fabrics do not trap moisture or heat, they can help reduce air-conditioning costs as well, prolonging the life of your HVAC system and reducing your carbon footprint. Installing Eclipse Shading Systems® retractable awnings provides significant savings on air cooling costs by reducing solar heat gain through windows and walls. Simply put, when you increase the shading around your home, indoor temperatures stay cooler. Making the smart decision to purchase retractable awnings for your home will reduce your family's environmental footprint and fight increasing energy costs.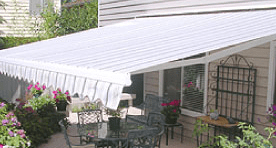 Eclipse Shading Systems retractable awnings and shading products offer superior technology options that can reduce heat radiation up to 90%. Eclipse shading products come with the highest commitment to innovation, quality, and service. Retractable awnings look great and increase curb appeal of your home while providing style, protection from the harmful UV rays of the sun, and ongoing energy savings. When it comes to investing in a long lasting product that will give you energy savings for many years, Eclipse retractable awnings are durable and reliable. Your porch or patio quickly becomes extended outdoor living space for you and your family to enjoy and a great place to entertain on sunny days, because the shade from your Eclipse retractable awnings will keep everyone cooler and comfortable.
Purchasing Eclipse retractable awnings and shading products is an investment in your home and your family. Do your part to reduce energy use and save money. Purchase Eclipse retractable awnings, shading products, and accessories for your home.
THE ULTIMATE SUNBLOCK™