The spring typically brings sunny days that are warm enough to spend a little time outdoors on the patio, deck or porch. If you love relaxing outside, it's sure to get your thinking about the long summer days to come. It's also that time of year when quickly changing weather with strong winds and rain can come on suddenly with little warning, potentially causing extensive damage to your retractable awnings. Fortunately, there are some things you can do to protect your awnings from this type of damage. Use these tips to keep your awnings in good shape all year long, especially when winds are strongest.
Roll it Up Before Strong Winds Arrive
An unpredicted strong gust of wind can get under your awning fabric, causing it to lift beyond its endurance. You can make sure that your awnings are not damaged in wind and heavy rain by being aware of harsh weather conditions before they happen. If the weather forecast is calling for winds or gusts of wind 15 to 20 miles per hour or more, keep your awning rolled up. If you're going go to be away on vacation and there's a possibility for strong winds while you're away, keep it rolled up until you return home. Following a rainstorm, make sure to check the fabric for any rain left on the fabric that might be puddle and gently clear debris away to prevent fabric from staining or stretching.
Choose an Awning with a Durable Frame
The selection of motorized awnings from Eclipse Shading Systems® features a number of different designs constructed with the highest quality hardware and fabrics available in the industry. In fact, our frames made by Llaza of Spain are some of the most durable in the world, and our Advanced Belt Technology incorporates wider arm profiles for added strength. These features help our awnings to withstand light wind and rain while still retaining their shape and style. But to be extra cautious, we still advise awning users to listen to the weather forecast in the morning before you leave the house and retract your awning if strong winds are a possibility.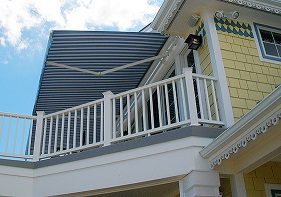 It's no secret that Eclipse retractable awnings are built to last for years to come. But there are so many other great benefits you get from installing one of these awnings on your home. Utilizing exclusive Eclipse technology, our awnings designed for solar protection are THE ULTIMATE SUNBLOCK™. In addition, they enhance the beauty of your home. Eclipse retractable awnings create additional outdoor living space so that when summer does finally get here, you can make the most of your relaxing and entertaining time under the cool shelter of your backyard retreat. Take care of your retractable patio awnings, and your awnings will continue to take care of you!