Tom's River Door & Window has earned the trust of the local community. For forty years, the residents of Ocean and Monmouth Counties of New Jersey have relied on Tom's River Door & Window for the convenience of location and personalized customer service along with quality workmanship and professional service. Tom's River Door & Window is a business that is built on a foundation of satisfied customers.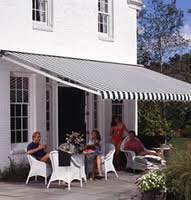 Tom's River Door & Window has also earned the trust of Eclipse Shading Systems® and is a fully authorized Eclipse dealership. You can rely on "Eclipse Excellence" with every Eclipse product you purchase. Purchasing an Eclipse retractable awning will turn your porch, deck, or patio into a cool oasis of relaxation while providing you and your family with protection from damaging UV rays.
Make a personal statement with your Eclipse shading system when you choose from many Eclipse shading options, as well as fabrics and colors that reflect your personal style. Tom's River Door & Window will help you save money when you have your Eclipse retractable awnings installed. By blocking the sun's rays, your indoor temperatures will stay cooler and reduce your energy bills…and your carbon footprint. The reliable experts at Eclipse dealership, Tom's Door & Window take your trust seriously and we want you to be confident in the fact that every customer will experience our dedication to Eclipse solar protections solutions and unmatched customer service.
THE ULTIMATE SUNBLOCK™