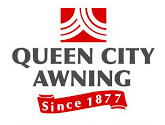 Since Queen City Awning opened its doors in 1877, they have supplied Cincinnati, Ohio homeowners with awnings. Queen City brings the awnings to homeowners who want to experience the elegance of high quality of Eclipse retractable awnings to provide shading for their deck or patio.
Queen City sells the best and only the best which is why they offer you the selection of Eclipse SunRoof retractable canopy awnings, the E-Lite, and The Eclipse retractable awning. Eclipse shading products are made with top brands of Sunbrella fabrics and Tenera (Gore Tex) sewing threads, guaranteed for the life of the fabric.
Eclipse retractable awnings are available with motorized operation for touch-of-a-button ease and carry the best warranty in the industry. The experienced sales staff will help you select the retractable awning that is right for your shading needs.
Queen City in Cincinnati, Ohio offers winter maintenance service to our customers with removal in the fall, clean dry storage, insurance while in our care, and installation in the spring. Additional Queen City services include cleaning, retreating fabric for water repellency, and repairs to fabric or framework.
Nationwide, Eclipse Shading Systems has chosen and certified select dealerships to provide you with the best shading solutions in the world. Make the investment in an Eclipse retractable awning for your home and with the touch of a button, enjoy the great outdoors with the luxury of cooling shade. Your authorized Eclipse Shading Systems dealer is the locally owned family business Queen City Awning in Cincinnati, Ohio.
Until October 31, you can get 10% OFF NEW AWNINGS VALUED AT $1,000 OR MORE – Purchase now and we'll have your new awning ready for spring installation!
THE ULTIMATE SUNBLOCK™