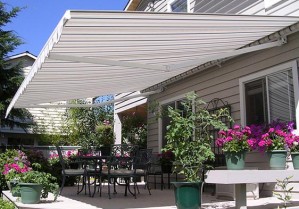 You have lived in the same house for over 15 years. The backyard is big and the kids have grown up enjoying it. Since you had the Eclipse Shading Systems® dealer come out and install the Total Eclipse for your equally as big back patio, it seems like weekends are pretty busy back there and you have nowhere to go for a little 'you' time.
Then you realized that the side patio with its flagstone walk has gone neglected for too long. When the kids were little, you didn't want them to run around to the side of the house, out of your sight and inside the house, you put a sofa against the door for safety. One day, before the kids got out of school, you cleaned up the side patio, planted a few annuals, and picked up a few pieces of relaxing outdoor furniture, decorating your new outdoor room.
It wasn't long before you realized you would need some shading for your private retreat as well, so you called your local Eclipse dealership and had them come out to measure for a retractable awning. When you selected your new awning style, you also chose awning fabric that would match the new patio lounges you purchased as well as coordinate with the furniture indoors for a look of continuity. Whenever you have the opportunity, you sneak off to your private retreat and haven't been caught yet!
Eclipse Shading Systems has a solar protection solution for every space, large or small. Our nationwide select dealerships will deliver the Eclipse Promise to you. We take your trust seriously so when you tell us that we handled your job professionally and meticulously, we feel proud…every time.
LIFE UNDER THE AWNING