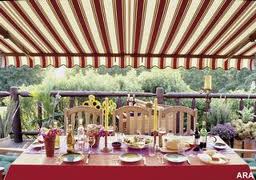 Hail! Hail! The gang's all here! It's your turn to host the family reunion and everybody loves coming to your house with the backyard swimming pool. This year you've taken your outdoors living experience to the next level and had a new large patio added onto the house and along with it – you guessed right – an Eclipse retractable awning! The Total Eclipse® large projection retractable awning system is a commercial grade awning that provides maximum shade at the touch of a button. The Total Eclipse retractable awning uses materials and hardware that equal superior strength and durability and boasts projections up to 16 feet 6 inches. Eclipse Shading Systems® is the only company in the United States to offer this large projection size along with best in class performance.
The Total Eclipse retractable awning is the largest awning projection available, constructed of heavy duty, commercial grade hardware and the strongest most durable awning fabric available. When supersize shade is called for, the Total Eclipse retractable awning with a ten-year frame warranty and a five-year frame finish, fabric, and motor warranty is exactly what you need. The Total Eclipse retractable awning can be installed as a single unit or side by side for total protection for the harmful UV rays of the sun. A specially constructed heavy-duty belt handles over 1800 pounds of spring tension, allowing the massive arms of the Total Eclipse to provide the ultimate strength and performance for your retractable awning.
And when the party goes into the night, enjoy a moonlit evening with the Eclipse Lunar Light Package. The insect resistant Eclipse Lunar light can be installed when you purchase your awning or you can have it added onto your awning later. The soft glow of natural light is just enough to complement your patio party and the light can be operated from the remote awning control or with an in-line switch.
A good time was had by all with a little help from Eclipse!
THE ULTIMATE SUNBLOCK™