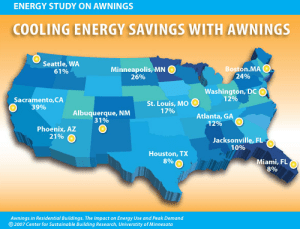 Eclipse Shading Products
When you purchase awnings from Eclipse Shading Systems® you will have instant savings on your energy bills. In fact, the savings will pay for the cost of your shading products. PAMA, the Professional Awning Manufacturers Association reported in a study on the Impact on Energy Use and Peak Demand that awnings, solar screens, and drop shades reduce home energy costs.
Reduce Heat Gain
Heat gain is reduced with the use of retractable awnings and solar shades. Exterior shading prevents heat from penetrating glass doors and windows, and through walls, keeping indoor temperatures cooler. When your AC doesn't have to go on as often to cool your home, you save monthly on energy costs and in the long-term by not wearing down the parts in the system. Additionally, shading reduces sunlight and glare by as much as 94%, which means your carpets and upholstery won't fade from the sun.
Eclipse designs, delivers, and installs the highest quality custom shading products at the best possible price through certified dealerships throughout the US. Protect your family from damaging UV sun exposure, keep your indoors cooler, and save money on energy bills. Enhance the comfort of your home and your time outdoors with custom made, affordable, durable, and energy efficient solar shading solutions from Eclipse. Eclipse Shading Systems awnings offer superior solar protection that has the technological ability to reduce heat radiation up to 90% and all our shading options come with the highest commitment to quality and service.
THE ULTIMATE SUNBLOCK™