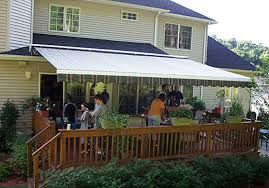 Your daughter's prom date has just arrived to pick her up and it's instantly noticeable how times have changed. He didn't have to borrow his Dad's car because he has his own new shiny compact and the corsage is made up of colorful lavender orchids with sprigs of baby's breath. You can't believe how beautiful she looks. As you back up with the camera to take pictures of the attractive young couple, the glare of the late afternoon sun seems to be everywhere obstructing the view, so you run up on the deck and grab the remote to roll out the Eclipse Shading Systems® retractable awning.
You purchased your Eclipse retractable awning before your daughter was born and after twenty-five years, the fabric looks just as colorful and fresh as the day you bought it, not to mention the operation is just as smooth. You have taken good care of your Eclipse awning and it's been equally as good to you.
Eclipse Shading Systems products and accessories bring the most innovative, modern solar protection to your door, always with outstanding customer service and knowledgeable consultants that will help you find the shading option that's right for you!
As your little girl comes out onto the back porch in her elegant gown with her hair styled in curls from an afternoon at the salon, you realize how quickly she's grown up and will soon be leaving your home to go off to college. But you will always have the perfect pictures you take today with the help of the shade of your Eclipse retractable awning.