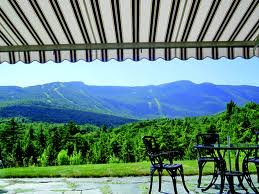 All winter you look forward to taking your family to your mountains where you can relax and watch the sun go down while you take in the expansive landscapes and panoramic mountain views. You may think of the mountains as a cooler climate, but temperatures on western slopes can reach 100 degrees in afternoon sun. Eclipse Shading Systems® understands the architecture involved in providing shading for a house in a mountainous environment that is effective at blocking the intense heat of the sun, is energy conscious, and fashionable. Your local Eclipse dealer will consult with you to deliver the awnings and solar shades that fit your style with several perfect options for your mountain home. Keep the view. Lose the glare.
Eclipse Interior Solar Shades filter light as it enters the room, leaving your view of the great outdoors intact and reduces heat gain and sun glare indoors. This sophisticated shade option blocks out up to 99% of the sun's damaging UV rays, reducing cooling costs. Keep the view, lose the glare and enjoy the same privacy as a standard curtain.
Eclipse Vertical Drop Solar Screen can be mounted on the outside of any structure, and offers 100 percent block out shade creating a room where you can relax. Make a statement and enjoy the sun – on your own terms!
Eclipse Exterior Retractable Solar Screens protect your furniture and carpets from fading and get rid of sun glare. Solar screens can reduce heat gain in your home in the summer months by as much as 77%, stop 90% of the harmful UV rays, and create 100% block out shade. Exterior solar screens are more effective than interior shades because they block the heat before it enters the glass.
The newest addition to the Eclipse family is the Eclipse E-Zip Side Retention Solar & Insect Screen. Create additional summer living space for your home an added level of protection against summertime bugs! Air born insects and creepy crawlers are blocked from intruding on your comfort. We offer a custom designed motorized system with the choice of each screen operating separately or all at once and includes a bottom track seal.
The Eclipse Butterfly Awning gives you instant shade where you want it. At the touch of a button, the fully motorized Eclipse Butterfly awning system can create that room for you and your family to enjoy anytime you want. Increase your living space with this freestanding double-sided retractable awning system while adding to the value of your home. The Butterfly provides shade, protection from harmful UV rays and even keeps you dry in light rain, while you party on.
THE ULTIMATE SUNBLOCK™