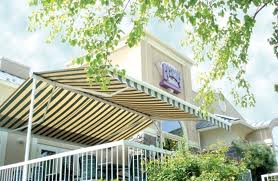 Homeowners in the Southern area of the United States can save money through reduced energy bills when Eclipse Shading Systems® are installed. PAMA (Professional Awnings Manufacturers Association) reports that reduced cooling bills will result when retractable awnings and shading products are installed in and on your home. Shading systems increase the comfort in the home by reducing sun glare and keeping indoor temperatures cool, reducing your energy consumption by 25% or more. With the addition of Eclipse retractable awnings and solar shades, your porch, deck, and patio quickly becomes a cool and comfortable place to relax and enjoy your family and friends without exposing them to the harsh rays of the summer sun and indoor temperatures will remain cooler.
PAMA works to make more people aware of the benefits of awnings and reports show that home owners in the hot and humid South can realize overall energy savings on home cooling of up to 12% and can reduce indoor temperatures up to 15% with the protection of awnings. More energy is lost on a hot day with solar radiation through glass windows, which can be responsible for up to 20% of the energy load of your air conditioning system. The use of awnings and window shading systems can also prolong the life of the mechanics of your AC unit.
Eclipse Shading Systems has dealerships across the United States. Find one near you and you will quickly learn that Eclipse awnings offers superior technology options that can reduce heat radiation up to 90% and that all Eclipse products come to you with the highest commitment to quality and service.
THE ULTIMATE SUNBLOCK™