You transitioned to a new job last fall and work in a cozy small office building with a few other small companies. You loved the sun on winter afternoons because it warmed your office space, but now that spring is here, it's getting a little too warm. Thoughts of the summer months without shading reminded you of the time the edge of your computer screen and the plastic lamp began to melt from the sun glare. It was on your mind to ask the boss about some shading for those days when you ran into a coworker coming back inside from a meeting and you learned some wonderful news…the building has Eclipse retractable awnings!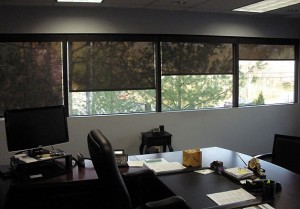 Another coworker told you that when the ground around the building dries from spring rains, tables are set up for outdoor eating and break times and it's not unheard of to have an occasional meeting outside. Directly above the tables and covering the entire concrete entryway, Eclipse retractable awnings will roll out and provide shading for the entire front of your building as well as the indoor office space. Eclipse shading products eliminate sun glare and prevents the heat of the sun from radiating through walls and windows. You will be much more comfortable indoors and the boss is happy that the cost of cooling the space is reduced.
With cooler office space and lovely outdoor lunches under the Eclipse retractable awnings, it will hardly seem like working, but the big news is that every Friday afternoon all summer at 4:00 pm, there is a concert and light refreshments under the awnings for the enjoyment of everyone who works in the building. Insert smile here! That's your new work life under the Eclipse Shading Systems® retractable awnings. Summertime, here we come.
LIFE UNDER THE AWNING