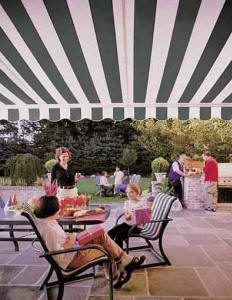 Hot summer days can be especially trying for your pets if you don't have shading on your home. Your dog or cat will wander around moving away from the sun to find even the tiniest bit of shade to stay a little cooler. And if the concrete patio is hot when you step on it barefoot, imagine how your little kitty feels. It's not much better indoors either because without outdoor shading systems, the heat of the sun radiates through the walls and windows and heats up the house as well.
Pets deserve protection and relief from sun and hot weather too and they look to us to provide for their comforts. We feed them and give them fresh water, take them to the Vet when they're sick, and we should show them a little more love by sharing some shade with them during the summer months. You go out of your way to explain this to friends and neighbors hoping they will discover the benefits of awnings for their pets.
When the weekend comes, Rover and Frisky can go in and out all day long or lay right next to you while you relax under the cool shade of the Eclipse retractable awning. You love the feeling of knowing that they're right there with you and getting the protection they need.
You can leave the doggie door open and the awning rolled out when you go to work with the confidence that your pet will have shade from the sun and no worries if there's a little light rain and wind, your Eclipse retractable awning can take it!
Give your pets the love and respect they deserve. Eclipse Shading Systems® has the shading you need to keep your entire family safe from the damage of UV rays and the heat of the day, including Frisky and Rover. There's an Eclipse Shading Systems dealer near you!
LIFE UNDER THE AWNING