Enhance your lifestyle with expanded outdoor living space that is cool, comfortable, and offers protection from the sun. We're talking about Eclipse retractable awnings. You and your family can get the most out of your Eclipse Shading Systems® products with the push button technology of Somfy motors. Eclipse Shading Systems uses Somfy products exclusively in our solar shading products.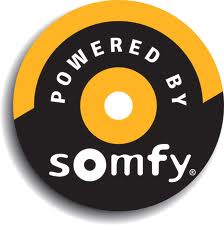 Somfy is the world's leading manufacturer of specialized motors and control systems. With Somfy automated controls, you can extend your retractable awning from inside to make sure the deck is cooled off before you go outside. Touch of a finger controls command the Somfy wire-free sun sensor, the 3D wind sensor, and the Eolis wind sensor, and temperature sensors provide you with an additional layer of comfort and safety. When the wind and rain whip up or the temperature in the room is rising, your Somfy sensor will tell the motor to extend awnings, shades, and solar screens automatically…even if you are not there.
Reduce heat gain in your home and save on energy bills with the superior easy-to-use wireless technology of Somfy helping to make Eclipse retractable awnings the best in the world.
Your Eclipse retractable awning, rolling shutters, interior shades, and projection screens are all powered by Somfy's specialized motors and control systems. Give it up to the reliability of Somfy and let their innovative technology take control. Bring new life to your home with deck or patio retractable awnings, solar screens, and shades from Eclipse Shading Systems, powered by Somfy.
THE ULTIMATE SUNBLOCK™