In the Rocky Mountains of Colorado, reflection off the snow and the overall intensity of the sun at high elevations calls for the innovative shading only available from Eclipse Shading Systems retractable awnings. When you go skiing, you are always up at the crack of dawn so that you can get those early morning runs in before the mountain gets too crowded. You also like to escape to some outdoor shading for sun protection while you relax for a few hours. So after some great morning skiing you head down on the gondola for some lunch and a good read until the sun subsides a little.
You saw her go up on the gondola as you were coming down and exchanged smiles, wondering if you would see her later when you went for a late afternoon run or in town after the mountain closed. You removed your skis and headed for the first shaded café you could find. Sitting under the Eclipse retractable awning, you had lunch and pretended to read while you watched people passing by, hoping one of them would be her. You turned your chair adjusting for the sun glare so that the awning was shading your book pages, when she snuck up and sat down across from you!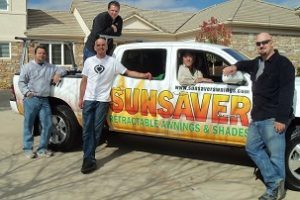 The next day she was at the mountain with you at dawn and you had lunch plans under the same awning where you sat yesterday, hoping you would meet her. There's nothing like spring skiing and the new friends you meet on the slopes and hanging out with them under the Eclipse retractable awning. But now you have to get to the café before the crowds come because more people are flocking to the shade of the Eclipse awnings! Your Colorado Eclipse awning specialist is SunSaver Retractable Awnings, family owned and operated with locations in Aurora, Denver, and Colorado Springs.
LIFE UNDER THE AWNING