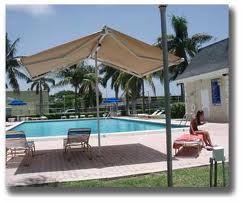 Expand your living space with a backyard retreat when you purchase retractable awnings from Eclipse. Invite friends to join in the summer fun at your pool with an additional way to stay cool under your Eclipse awnings. Awnings and shading options provide protection from the severe and harmful UV rays of the sun and help you keep cooler during summer months.
Make your 4th of July fun time a more comfortable one with shading systems from Eclipse. Investing in your home with Eclipse Shading Systems also equals instant savings on your energy bills because Eclipse retractable awnings create effective solar shade that can lower heat gain indoors by as much as 77% and reduce sunlight and sun glare as much as 94%. Another perfect shading option from Eclipse is the free standing Eclipse Butterfly. Create an extra room by the pool with the ultimate back yard getaway – freestanding, double-sided retractable Eclipse Butterfly awning.
Instead of running for shelter indoors on those sweltering hot summer days, retreat to your extra backyard room, the Eclipse Butterfly awning. The Eclipse Butterfly awning provides relief from summer heat during outdoor activities with instant cooling shade when you want it, where you want it. At the touch of a button, the fully motorized Eclipse Butterfly awning system can create a room for you and your family to enjoy every day. The Butterfly provides shade, protection from harmful UV rays, and even keeps you dry in light rain, while you party on. Add the Lunar Eclipse Lighting Package to create a soft evening glow and the Eclipse Solar Beam Infrared Heater to provide extra warmth to take the fun into the night. Eclipse Shading Systems® makes summer days by the pool cooler with retractable awnings from Eclipse.
THE ULTIMATE SUNBLOCK™