When the angle of the sun is shining directly on the walls and windows of your house, the Eclipse Drop Arm retractable awning will provide you with sun control and heat control. The Drop Arm retractable awning is perfect for shading porches and windows because it drops down all the way for the full coverage you need during the mid to late afternoon sun.
When you hear the AC kick on you know the late afternoon sun is hard at work radiating through the walls and windows and will run non-stop trying to keep the indoors cool until the sun lets up. If you have an Eclipse Shading Systems® Drop Arm retractable awning you can push a button to roll it down and stay cooler indoors while you save money on your energy bills.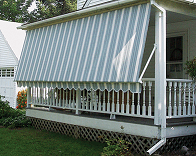 The Eclipse Shading Systems Drop Arm retractable awning is available in widths from 5' to 30' and you have several choices in powder coated frame finishes. You can also purchase an aluminum hood to give you year round protection for your Drop Arm retractable awning. Choose from over 200 solution-dyed acrylic designer fabrics for your awnings and your patio furniture upholstering to match your outdoor living lifestyle.
You've been watching the snow through the window, feeling the chill, and wishing winter would come to an end. Every day brings us closer to spring. Get rid of the winter 'Blahs' with thoughts of summer and shading from Eclipse. Custom made Eclipse Drop Arm retractable awnings are the perfect accent for your home or business, giving you shade and privacy when you want it. With the Eclipse Drop Arm retractable awning, you'll have full coverage at the touch of a button. That's the Eclipse Shading Systems retractable awning advantage.
THE ULTIMATE SUNBLOCK™