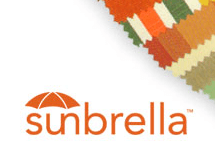 Eclipse Shading Systems® has the reputation of making the best awnings in the world. We are proud of our association with our wonderful partners and their incredible products that all come together to bring you Eclipse shading products. The majority of Eclipse awnings are made with Sunbrella fabrics, manufactured by Glen Raven. From furniture and accessories to retractable awnings, Sunbrella fabrics will transform your backyard into extended outdoor living space.
With selections of over 200 solution dyed weather and stain resistant colors and patterns, Sunbrella fabrics are easy to care for and can be coordinated with your Eclipse retractable awnings, and outdoor as well as indoor upholstering. This is style and color coordination for your home that you can further complement with landscaping designs.
Sunbrella awning fabrics are not only GREENGUARD certified to protect our environment, The Skin Cancer Foundation has awarded Sunbrella with the "Seal of Recommendation" giving you the assurance of a UPF (ultraviolet protective factor) of 50+ to block up to 97% of the sun's UV rays.
The most effective way to block UV rays is with the shade of an Eclipse retractable awning. Sunbrella fabric awnings also block the heat from radiating through windows and walls, reducing heat gain indoors, lowering temperatures, and energy costs.
Color fast, easy to clean, and made to last, Sunbrella awning fabrics will dress up your patio with attractive and decorative looks to go with your home. Make your outdoor retreat a place to escape from the heat and the sun in style with Sunbrella fabrics – made in America and contributors to the best awnings in the world…Eclipse retractable awnings.
THE ULTIMATE SUNBLOCK™