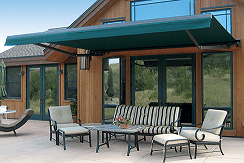 The majority of Eclipse Shading Systems® retractable awnings are custom made using fabrics by Sunbrella. Sunbrella fabrics, manufactured by Glen Raven have earned the Skin Cancer Foundation's "Seal of Recommendation", so you can be sure your family has the best protection from the dangers of the sun's UV rays. Your Eclipse and Sunbrella skin protection will increase your outdoor living space with the style of over 200 choices in colors and designs for your awnings and patio furniture upholstering to match. The high quality of Sunbrella fabrics provide up to 98% protective sunblock and are GREENGUARD certified, helping to protect our environment. Shade is the most effective way to block UV rays from harming your skin. Shading fabrics vary in UPF – ultraviolet protective factor, differing in their ability to absorb and block UV radiation, the most harmful rays of the sun. A UPF of 50+ will block 97%+ of the ultraviolet rays.
Sunbrella fabrics also provide energy efficiency for your home by blocking the sun's heat from radiating through walls and windows. The American Society of Heating and Air Conditioning Engineers reports that awnings can reduce heat gain by 55-65% on southern-facing windows and 72-77% on western exposure.
Sunbrella fabrics are worry-free moisture and stain resistant, easy to clean, color fast, and can add to your décor by complementing indoor living with coordinating colors for upholstering sofas, chairs, and throw pillows. Make your style statement and enjoy your outdoor retreat with fabric by Sunbrella for your Eclipse retractable awnings.
THE ULTIMATE SUNBLOCK™