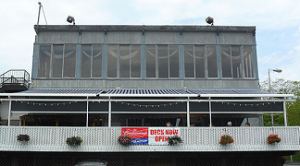 As an experienced restaurant owner, you know your business increases when you can open the outdoor dining area. So many people would prefer to dine outside whenever possible, but not all café and restaurant owners can pull it off and make their guests truly comfortable. For you, that means calling on Eclipse Shading Systems® to provide solar shading to keep it cool on the tables, especially in the noonday sun.
When you choose the Eclipse Shading System SunRoof Plus, you're getting three-season comfort for your peaceful outdoor oasis…wherever it may be. The Eclipse Shading Systems SunRoof Plus is reliable like all our products, but it's also rugged enough to withstand rain and winds up to 23 miles per hour. The large size Eclipse SunRoof Plus is Class II wind speed-rated. The Eclipse SunRoof Plus shading system is available up to 19'8" wide with 16'5" projection or 16'5" wide with 19'8" projection.
This new Eclipse shading system is available in two styles:
– Patio, which attaches to any existing wall
– Pergola, which attaches to the top of an existing structure
Your new Eclipse Shading Systems SunRoof Plus awning operates with ease from a handheld transmitter or wireless wall switch. When your SunRoof Plus is not in use, protect the fabric by retracting it into the cassette holder.
Enhance the outdoor dining experience of your guests with the addition of the Eclipse SunRoof Plus. The Eclipse Shading Systems SunRoof Plus retractable awning will protect you from the sun, light rain, and a little wind, so relax and enjoy the great outdoors no matter what the venue. Patio or Pergola SunRoof Plus shading from Eclipse…you choose.
THE ULTIMATE SUNBLOCK™