Shading Options: SunRoof Plus
The Eclipse SunRoof Plus offers home or commercial three-season shading and wind and rain covering. The SunRoof Plus comes in pergola or patio style shading options and with color and pattern choices from 100% acrylic Sunbrella specialty flame retardant vinyl laminated fabrics. Expand your outdoor living space with protection from the elements and all the benefits of Eclipse Shading Systems® solar protection products. Your SunRoof Plus from Eclipse will block the sun and the rain from intruding on your party.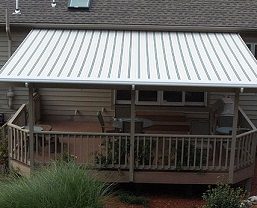 The motorized Eclipse SunRoof Plus is Class II wind speed rated at the large size and specially designed to be rugged enough to stand up to winds up to 23 mph to give your home or business protection from sunny, windy, or rainy weather.
The Patio SunRoof Plus can be attached to any existing wall and the Pergola SunRoof Plus mounts on top of an existing structure like a freestanding pergola or over an outdoor sunroom. Your SunRoof Plus is operated with a wireless wall switch or handheld transmitter and retracts into the aluminum cassette box, protecting your awning fabric when not in use. The SunRoof Plus is available in 19'8" wide by 16'5" projection or 16'5" wide by 19'8" projection. The SunRoof Plus is ideal for outdoor seating areas.
Purchase the best awnings in the industry – Eclipse retractable awnings. Cooling comfort for your outdoor living space. Eclipse SunRoof Plus – Protection from the Sun and the Wind – three seasons a year.
THE ULTIMATE SUNBLOCK™