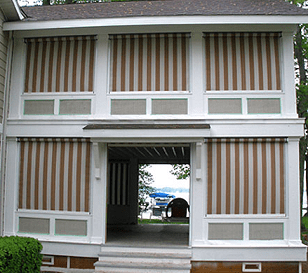 You can take control of the sun and keep temperatures cooler indoors, protect your furniture and carpets from fading, get rid of glare on the flat screen, and still enjoy the outdoor view with Eclipse exterior retractable solar screens. Outdoor retractable solar screens will also lower energy costs because if the sun isn't heating up the room through the glass, your air conditioner won't have to go on as often. In fact, Eclipse exterior retractable screens can reduce heat gain in your home during summer months by as much as 77%. Exterior retractable solar screens create 100% block out shade and stop up to 90% of the sun's UV rays.
• The latest addition to the Eclipse family of outdoor solar screens is the Eclipse E-Zip Side Retention Solar & Insect Screen. With this Eclipse model, you can create additional summer living space with protection from the bugs. The Eclipse E-Zip is a custom designed motorized solar screen with the choice of operating each screen separately or all at the same time. The E-Zip has a bottom track seal and can be purchased with solid acrylic, open weave, or insect screen.
• Motorized or manual, and can be incorporated into existing automated systems, the Eclipse 4" Cassette Exterior Retractable Solar Screen reduces cooling costs to 40% and blocks harmful UV rays. Available in a wide selection of fabric colors with a choice of three frame finishes.
• How about a cool room with a view? The Eclipse Vertical Drop Solar Screen is available with motorized or manual retraction…or a combination of both and with a choice of five frame finishes. Fabric seams are horizontal and welded. Wide variety of fabrics, colors, and designs. Same great protection from the sun.
Block the sun's heat before it enters the glass with Eclipse exterior retractable solar screens. Keep control of the sun's effect on your home with Eclipse Shading Systems® outdoor retractable solar screens. Another great shading option from Eclipse.
THE ULTIMATE SUNBLOCK™