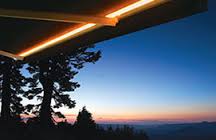 You can take outdoor living to the next level by taking it into the night with light and heat from Eclipse Shading Systems to make the evening just as enjoyable as your daytime fun. So if you are having friends over for the evening and planning an outdoor event, check out our Eclipse Solar Beam Infrared Heater because there's no reason to let dropping temperatures ruin your party. The compact and energy efficient Solar Beam 1500-watt heater can be awning or wall mounted and comes with a nine-foot power cord. Next is the Lunar Light Package by Eclipse to help resist insects and light up the night for an extended stay outdoors. The soft natural light will complement your evening activities whether it's entertaining friends or relaxing with your family. You can purchase your retractable awning with the Lunar Light Package already installed or we can incorporate the system into your existing awning. Operate the lights with the same remote wireless control that operates your awning or use an in-line power switch.
Eclipse Shading Systems uses Somfy electronic products when making our solar shading products because they are the world's leading manufacturers of specialized motors and control systems. High performing, practical wireless sun or wind sensors automatically respond to the elements, making sure your family is safe and keeping your awnings protected. You can select from the Somfy Wire free Sun Sensor, 3D Wire free Wind Sensor, and the Eolis Wind Sensor. Somfy Home Motion powers solar protection projection screens, interior shades, blinds, retractable screens, and retractable awnings.
With the reputation and reliability of Eclipse and the innovative wireless technology of Somfy, you can have retractable awning accessories that offer evening warmth, lighting, and sun and wind sensors to expand your outdoor living into an atmosphere of total relaxation.
THE ULTIMATE SUNBLOCK™