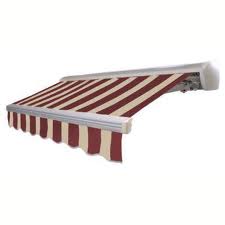 There are many brand names in the market of awnings and shading systems. At Eclipse Shading Systems, we care about you, the customer and we know you care about quality and reliability. Purchasing a custom made, professionally installed retractable awning is a costly investment in your home. When you purchase your awning, you care about reliability in product and in service. We would like to share our knowledge with you so that you can make the best choice in awning products for your home or business.
1. Do some investigating. Check Angie's List, the Better Business Bureau, scope out the local dealers, their reputation and references, and their selection.
2. Make sure the awning dealer you choose to purchase from has a warranty that covers installation whether it's subcontracted or done by the dealer.
3. The installation goal is to make sure the lag screws reach the center of the house's framework. We recommend that your installer use a minimum of 3/8" wide shaft lag screw to secure the awning.
4. The fabric should be 100% acrylic with UV stable thread to resist mold, rot, and fading. With regular cleaning, your awning will last 8-12 years.
5. Make sure to get a full warranty, not a prorated one. You will save money if you need to make a claim.
6. When it comes to choosing a motor or hand crank to operate your awning, you'll find that if you select a motor, you'll use your awning ten times more often.
7. When purchasing an awning, you get what you pay for. The best assembly is done right here in the United States, takes a couple weeks to produce, and is made to order with weather resistant metals and paint.
8. Retractable awning arm springs apply tension with stainless or galvanized PVC coated cables, chains, or belts, which consist of Kevlar material or smaller cables encased in PVC.
9. Purchase a national brand. Independent retailer assembly relies on sourcing expenses and will cost you more in parts and service.
10. We recommend purchasing a protective hood to give the first 6-8" of fabric extra protection and to keep water from entering the motor.
We at Eclipse know you have options when it comes to purchasing awnings for your home or business and we want to help you make the right decision. Eclipse Shading Systems stands behind its shading products and service. We care about our customers.
THE ULTIMATE SUNBLOCK™