When you purchase awnings for the house, you want a modern, attractive, and reliable shading system that will complement the look of your home, deck, and landscaping and have long lasting retractable performance. Eclipse Shading Systems® has Advanced Belt Technology (ABT) which means our retractable awnings will have unprecedented high performance with the ability to last 60,000 cycles. That means having a retractable awning with that has the capability to open and close 60,000 times and more!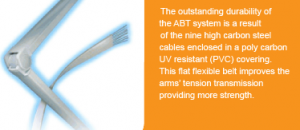 The difference is in the belt. The flat flexible belt of the ABT improves the arm's tension transmission providing more strength and reliability. The revolutionary tension system in the ABT takes the place of traditional chains and cables, making operation smooth and reliable every time you use your Eclipse retractable awning. Nine high carbon steel cables enclosed in a poly carbon UV resistant covering create the outstanding durability of the Advanced Belt Technology used in every Eclipse retractable awning. The PVC covering protects the parts and paint from being eroded by the friction of the system's operation.
There are more than 600,000 Advanced Belt Technology systems in operation today. Advanced Belt Technology was designed especially for the awning industry and when you purchase an Eclipse awning, you will have a shading system with the assurance of the most stable retractable operation possible. Clean lines, smooth finish, and the stability of Advanced Belt Technology provide you with the highest performing awnings available anywhere in the world.
THE ULTIMATE SUNBLOCK™