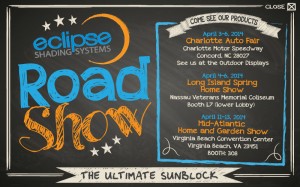 You purchased your first home, a lovely little town house. There were a few remodeling issues on your list, but they could wait. Number one was to shade the front porch so you could relax outdoors and watch the scenery on the street. There's not much of a back yard, but the woods is right behind the back windows so it's shady and cool in the kitchen on sunny days, but the living room was just too hot and you wanted to use your front porch, so you called your local Eclipse Shading Systems® dealership.
Lots of people walk up and down the street and stop at their front steps to chat, but no one seemed to spend time sitting and relaxing. The chairs on most of the porches seemed to act mostly as decorations. As you began to meet some of your neighbors, you enjoyed telling the story of how you used to sit with your grandmother on a similar front porch under her Eclipse awning. Back then, it seemed everyone spent weekend afternoons and evenings on the front porch.
You decided to have a front porch party to get to know your neighbors a little better, so you invited a few new friends and told them to spread the word. The day of the party, you extended your Eclipse retractable awning early in the day to keep the front porch cool, then created a few food platters and pitchers of lemonade to welcome new acquaintances to your shaded front porch paradise.
This year, you've noticed that a few other porches have people sitting, reading a book or the newspaper, and just relaxing during their down time. It's Saturday afternoon, all your weekend errands are done, and it's time to focus on your new hobby…bringing back the lost art of front porch sitting in your neighborhood.
LIFE UNDER THE AWNING