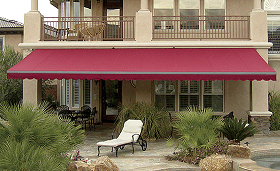 When you invest in the design esthetics of a beautifully crafted patio or deck, along with landscaping that complements the total look, take your backyard oasis all the way and install custom designed Eclipse retractable awnings. Eclipse Shading Systems® will provide you with the shade you want at the push of a button. Eclipse offers you a wide variety of durable, affordable, energy efficient shading options to increase comfort on your back porch and in your home, while enhancing the look on the outside. Make an investment in the future of your home and your family with the many benefits of Eclipse shading products.
o Cooler outdoor living space, blocking 98% of harmful UV rays
o Keep heat from radiating through walls and windows
 Reducing heat gain indoors 77%, lowering temperatures by 15%
 Lowering energy costs
 Reducing wear and tear on HVAC systems
o Reduce glare on flat screen TVs and computers by 94%
o Prevent fading of indoor fabrics and carpets
o Enjoy your deck during light or steady rain with retractable awnings made from weather proof acrylic, water resistant fabric
Make your next home improvement investment practical and stylish with cooling shade from Eclipse Shading Systems. Take control of your backyard and complete the design of your outdoor living area with the longest lasting, most durable awnings available – Eclipse shading products with touch of a button technology. Call your local Eclipse Shading Systems dealer and learn more about the many benefits of owning retractable awnings, accessories, and other shading systems options.
THE ULTIMATE SUNBLOCK™