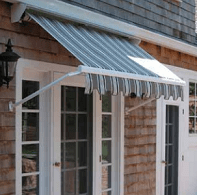 For sun control with low maintenance, the Eclipse Shading Systems® Drop Arm retractable awning is the perfect addition to your home. The Eclipse Drop Arm retractable awning is an attractive home accent and custom made with your selection of fabric to match your style and make the time you spend relaxing outdoors cooler and more enjoyable while you have the ultimate protection from the harmful UV rays of the sun.
The Eclipse Drop Arm awning is made especially for sun control of your windows and porch openings. Enjoy shade in sunny areas and raise the Drop Arm to have more warmth on cooler days. The awning drops all the way for full window and porch coverage. You will have privacy when you want it and a perfect view when you don't. The Eclipse Drop Arm retractable awning blocks up to 98% of the sun's harmful UV rays and will keep the heat of the sun from entering your home, helping to reduce energy costs. Additionally, stopping the sun's rays at the window and door will prevent indoor carpeting and upholstery from fading.
One of the best things about owning the Eclipse Drop Arm retractable awning is that there is no seasonal take down and storage necessary. When you're not using it, the awning fabric fully retracts for protection. Regular care of your retractable awning will keep it looking good and prolong its life. You can avoid premature aging by keeping an eye out for any rust spots and making sure that the fabric is free of debris.
You can have perfect sun control at the touch of a button with the full coverage of Eclipse Drop Arm retractable awning.
THE ULTIMATE SUNBLOCK™