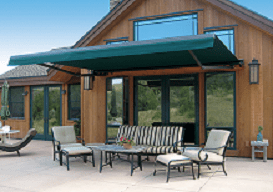 Eclipse Shading Systems® uses Advanced Belt Technology® (ABT) to give our retractable awnings the power and longevity that old-fashioned pulleys, cables, and chains cannot provide. We feature the Advanced Belt Technology system in our Eclipse, Total Eclipse, Eclipse SC, and the Eclipse Butterfly retractable awnings. Other tension transmission systems cannot compare with the performance of Advanced Belt Technology. Designed especially for the retractable awnings industry, the revolutionary breakthrough of Advanced Belt Technology used in Eclipse awnings is the result of nine high carbon steel cables enclosed in a poly carbon UV resistant (PVC) covering. This flat flexible belt improves the arms' tension transmission providing more strength and reliability. The ABT is stronger, more durable, and more friction resistant than the more commonly used chains and cables.
The difference is in the belt. Each ABT belt is tested up to 3,300 pounds, guaranteeing a long life for your Eclipse retractable awnings. The Advanced Belt Technology system is tested to last up to 60,000 cycles, which means your Eclipse retractable awning will have unprecedented performance. Of the 600,000 systems operating with Advanced Belt Technology, many of them are Eclipse retractable awnings. The ABT system's PVC covering eliminates erosion from friction of chains and cables contributing to the outstanding durability and extended life of your Eclipse retractable awning.
Eclipse Shading Systems is a world leader in the awning market with dealerships throughout the US. When you purchase Eclipse retractable awnings you'll discover that they are affordable, provide energy savings, are easy to use, look great, are durable, and come with impeccable, professional customer service.
THE ULTIMATE SUNBLOCK™