For the ultimate back yard retreat, Eclipse Shading Systems® bring you the freestanding Butterfly Awning system. The Eclipse retractable Butterfly Awning is like having an extra room for the warmer months of the year and can be installed where you want it, without a traditional mounting surface.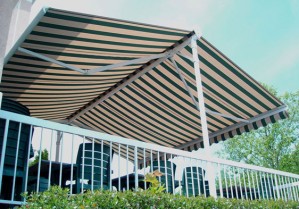 Installed in your backyard or by the pool, the Eclipse Butterfly is a freestanding double-sided retractable awning that will create shaded space for you and your family to enjoy on sunny days. The Butterfly retractable awning can help control how much UV sun exposure your family gets and there are over 200 colors and designs in 100% acrylic weather resistant awning fabrics from Sunbrella®, Dickson, and Ferrari. You can even relax under your Butterfly Awning on light rainy days while the rest of the world has to stay indoors.
Have your next party or just enjoy the peace of relaxing alone in the shade of your Eclipse Butterfly Awning. With widths of 16' and 20' and total projections of 17' or 20', the Butterfly awning creates a nice sized cool and shady retreat. The Butterfly instantly retracts with the touch of a button into its own protective hood. The rugged galvanized steel frame can be stationary set in concrete or mounted with the use of surface base plates.
When you add the Eclipse Solar Beam Infrared Heater and the Eclipse Lunar Lighting Package to your Eclipse Butterfly Motorized Retractable Awning system, you'll have a luxurious room that you can enjoy into the night with soft light and heat for cooler temperatures.
For instant shade and the best in solar protection, where and when you want it, call your local Eclipse Shading Systems dealer and ask about the unique freestanding two-sided retractable Butterfly Awning system.
THE ULTIMATE SUNBLOCK™