You decided to downsize a few years ago and sold the big house, moving into a great condominium in the woods with open floor plans, cathedral ceilings, and a spiral staircase. The place has great character and a tremendous lack of insulation! When the temperature rises outdoors, it gets hotter inside too. The corner condo backs up to the woods with a lovely deck right off the bedroom that seems to drink in the morning sun. At noon, the skylight in the loft roof indicates that the sun is moving to the front of the building.
Since you moved in, you have bravely gone to the back bedroom or the porch for the latter part of the day, because the living room is almost too hot to sit in and you can't imagine cooking during those hours. If you turn the AC up any more than it is, it will run constantly and you know what that will cost.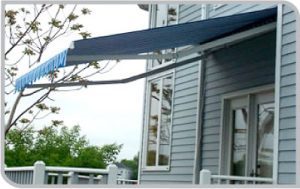 Last year you invested in nice patio furniture for the back deck and the little front porch and found out that you can get your new Eclipse Cross Arm shading system with awning fabric to match. The Eclipse Cross Arm retractable awning system is specially designed for providing shade in limited spaces. The innovative Eclipse technology of the Cross Arm awning gives you the luxury of high quality shading for your small deck.
This is your time. Early morning coffee on the back deck with the New York Times and late afternoons in the living room/kitchen area enjoying music, preparing dinner for guests because with Eclipse shading on the front porch that keeps the sun's heat from radiating through your picture window and surrounding walls, your entire home is comfortably cooler as well. That's the Eclipse Cross Arm shading advantage.
LIFE UNDER THE AWNING