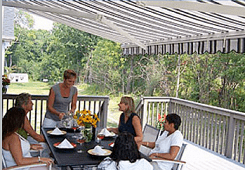 Solar protection means more than just getting out of the heat with a little shade. Relief from the sun is important, but even more important is avoiding the unnecessary risk of skin cancer by blocking as much of damaging UV rays as possible with Eclipse Shading Systems® products. Block UV rays from harming your skin with sun shading from Eclipse.
Shading fabrics vary in ultraviolet protective factor (UPF), their ability to absorb and block ultraviolet radiation. You want your awning fabric to have a UPF of 50+ to effectively block UV rays. Eclipse Shading Systems offers selections from Sunbrella® awnings fabric, manufactured by Glen Raven. Sunbrella awning fabrics will block 97% of UV rays and there are over 200 choices of colors and designs for your retractable awning. Sunbrella awning fabrics are GREENGUARD certified and have been awarded the Skin Cancer Foundation Seal of Recommendation.
Innovative technology, the most effective UV ray blocking awning fabric, and world-class frames come together at Eclipse to bring you the best retractable awnings you can buy. Eclipse retractable awnings are built to last, adding style and functionality to your home. Eclipse manufactures, sells, and installs the best custom-made awnings in the industry. Eclipse Shading Systems products and services receive consistent 5-Star overall ratings.
Proper sun shading for your home is important. Eclipse takes your solar shading needs and protection from the dangers of the sun seriously. The rays of the sun heat up your deck and radiate through walls and windows, increasing indoor temperatures as well. Stop the heat at the walls and relax, stay cool, and protect yourself and your family from the danger of skin cancer while saving money on cooling costs with retractable awnings from Eclipse Shading Systems®…the best awnings in the world.
THE ULTIMATE SUNBLOCK™