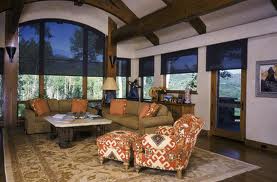 Solar heat gain does not stand a chance with the magic of Mermet solar screen fabrics. Do you know that 93% of the heat gain in any building is through solar radiation, 25-30% is through the windows, and 25-35% is through the ceiling? Those are very stunning statistics when you think about it. Radiation is absorbed, transformed into heat, and released into the room. Over 50% of a building's total energy consumption is used for heating and cooling. With energy costs constantly rising, let's take a look at how Mermet makes interior solar shades the best option for lowering these costs.
Simply put, the temperature in the room as the sun rises is 59°, with or without a solar shade. However, when the sun comes up and outdoor temperatures rise outdoors, the indoors room temperature without a shade will quickly rise to 77°. That's an 18° heat gain! The temperature in the room with the Eclipse Shading Systems Mermet interior solar screen will only go up to 68° or a gain of only 9°.
Mermet specializes in solar screen fabrics made from high quality coated fiberglass yarn, which is primarily used for internal and external solar screen shades. Mermet's fabrics are innovative and designed for solar protection providing you with ultimate comfort and valuable energy savings every day. Eclipse Shading Systems® offers a choice of transparent, translucent, or black out and a wide range of colors and patterns to match your décor and lifestyle. Stay cool with interior solar shades from Eclipse Shading Systems and the magic of Mermet.
THE ULTIMATE SUNBLOCK™