You may be beginning the shift to back-to-school mode, but summer is by no means over. Shorts and sandals will be your daily attire for many days to come and that air conditioner is still churning non-stop. It's not too late to expand your outdoor living space and provide the best possible sun protection for your home and family for the remainder of this summer and countless summers ahead. The Ultimate Eclipse retractable awning has the superior strength and cutting edge technology synonymous with the name of Eclipse Shading Systems®.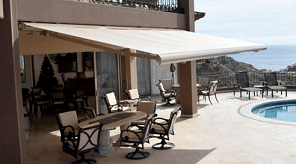 The Ultimate Eclipse comes with your choice of over 200 solution dyed awning fabric colors and designs that block up to 98% of the sun's harmful UV rays, are easy to clean, and always look great, complimenting your home and outdoor landscaping. The powder coated frame finish and frame hardware meet ISO 9001 and TUV standards, and the vacuum injected shoulders, Teflon® coated stainless steel end brackets and fasteners, along with Advanced Belt Technology® (ABT) concealed in the Eclipse patented double ball bearing elbow deliver to you one of the strongest, long lasting retractable awnings you can buy.
The shade you want to make your backyard an outdoor oasis is only a push of a button away. Eclipse retractable awnings also keep heat from radiating through walls and windows, reducing heat gain indoors resulting in lower energy bills, reducing glare on the flat screen, and preventing fading of carpets and upholstery. Investing in Eclipse shading products means you are investing in your home with the longest lasting, most durable awnings in the marketplace. Touch of a button technology and the renowned reliability of Eclipse retractable awnings…the world class Ultimate Eclipse.
THE ULTIMATE SUNBLOCK™