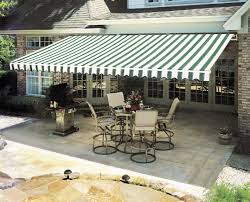 If you've decided to update your outdoor space with a retractable awning, you've probably already started your research to find the best one. However, there are certain things you may not know about these awnings and how they'll affect your home. Learn more by checking out this list of the top five things that you didn't know about retractable awnings to make sure you get the best fit for your needs.
1. Shade Systems Retractable Covers Don't Just Protect You from the Sun.
When people consider purchasing motorized retractable awnings, they usually do it to supply shade to their outdoor spaces, like porches, patios, and decks. What they fail to realize is that awnings are meant for more than protection from the sun's harsh rays. They are also an all-weather protector, which means that they instantly make your outdoor areas more versatile than ever before. In fact, you can sit out in the rain or out in the snow if you chose while ensuring that you stay comfortable in almost any weather. For instance, you may be considering a cassette awning, which is one of the most popular retractable styles. If you take a look at cassette awning pictures, you'll see their owners enjoying them in all kinds of weather.
2. Retractable Awnings can Be Mounted Almost Anywhere.
If you're worried that your home simply isn't built for a retractable awning, you're mistaken. These awnings are actually designed to be mounted almost anywhere outside your home, so you can get the outdoor coverage that you need. For example, if you look at cassette awning pictures or pictures of other types of awnings, you will see that they can even be attached on specially designed roof mounts. No matter where you want your awning to be located on your home's exterior, our Eclipse awning dealers can help you find the right product to suit your needs.
3. Awnings Provide Real Protection from the Sun.
When you think of sun protection for your outdoor living space, your first though is probably the shade that an awning or exterior zipper shade provides. In fact, it does much more than that. An Eclipse fabric awning actually blocks up to 98% of harmful UV rays, which can actually lower your risk of developing skin cancer from sitting out in the sun. This means that you can sit outside and enjoy the weather without worrying about your health or having to constantly slather on sticky sunscreen. It's a smart choice for your family's health as well as the health of any guests you have over to your home.
4. Awnings Can Be Matched to Your Home.
If you plan to buy a retractable awning, you probably assume that you'll simply have to pick the best color that will match the look and color of your home from what's available. You may be surprised to discover that this is not your only option. Our Eclipse awnings are constructed of durable fabrics and dyed in a special solution which provides you with 200 color options to choose from. This means that you can easily pick the perfect color that will either match or compliment your home, creating a more elevated, upscale look than having to choose from just a few "standard" colors offered by some other awning manufacturers.
5. You Can Create Additional Living Space.
If you need a bit more room for summer guests, you can actually use the exterior zipper shade to enclose your deck or porch. This particular shade systems retractable cover allows you to create an entire room that keeps bugs and heat out while allowing cool air in.
Use this list to help inform your decision about which retractable awning to add to your home. You can contact our Eclipse dealers to learn more about your options.