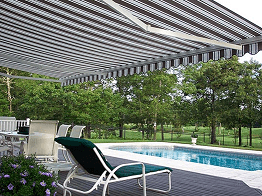 While away at a business conference, you noticed that the hotel restaurant's outdoor seating was comfortably cool as well as larger than most and you realized that it was because there was a retractable awning that covered the entire area. You also noticed that the inside area of the hotel behind the outdoor café was cooler than other parts of the hotel. Retractable awnings stop the sun from radiating indoors through walls and windows and prevent carpeting and upholstery from fading. When you returned home to your own backyard, you knew you wanted a Total Eclipse awning for your big patio for all those same reasons as well as the energy savings you could have by not making the AC run constantly to keep the indoor rooms cooler.
A large deck, patio, porch, outdoor café seating, and entryways to commercial buildings can all benefit with the eye-pleasing practical functionality of the Total Eclipse retractable awning. Invest in Eclipse Shading Systems' technologically advanced high quality retractable awnings and other solar protection products and you will be investing in the safety of your family from the sun's harmful UV rays and increasing the value of your home.
The heavy duty, commercial grade Total Eclipse provides for super sized solar protection for your home or business with the long standing reputation of excellence that can only come from Eclipse Shading Systems® products. The Total Eclipse retractable awning has projections up to 16 ½ feet, is constructed of the strongest commercial grade hardware, and uses the most durable weather resistant awning fabric available. The Total Eclipse comes with a ten-year frame warranty and a five-year frame finish, fabric, and motor warranty. Eclipse Shading Systems is the only company in the United States to offer retractable awing projections this size with Best-in-Class performance. The Total Eclipse – when supersize shade is called for.
THE ULTIMATE SUNBLOCK™