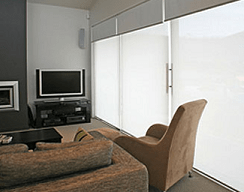 With Eclipse Shading Systems® interior mounted roller shades in your home or office, you can deflect as much as 95% of solar energy and block up to 99% of the sun's damaging UV rays from entering the room. Interior roller shades offer you an on-demand shade solution that keeps the heat and the sun's rays on the other side of the window by not allowing it to penetrate through the glass. More energy escapes through unprotected windows faster than through walls or other structure barriers.
Eclipse Shading Systems interior roller shades are expertly installed by our trained technicians. You have the option of touch-of-a-button or manual operation or integrating the operation into an existing automated system.
Eclipse interior roller shades can offer you privacy at home with choices of blackout fabrics from Mermet, Phifer, and Ferrari. Custom designed and professionally installed your roller shade fabric selection can match your existing décor.
Eclipse roller shades will save you money on energy costs as well as reduce wear and tear on technical equipment and office or home furnishings. Make your space more comfortable and energy efficient with the expertise and products from Eclipse Shading Systems.
Regardless of the season – summer, fall, winter, or spring, sun glare can be damaging to indoor materials such as carpets and upholstering. Extreme sun glare can actually melt casings on televisions and computers. Eclipse Shading Systems interior mounted roller shades can protect your flat screen, computer, and prevent fading of fabrics by blocking the sun.
THE ULTIMATE SUNBLOCK™