It's the neighborhood potluck and your entire family is looking forward to going down the street for playtime for the kids and the grown-ups. The two-block walk with your food contribution all wrapped up is fun as you join others on their way with you. When you arrive, you drop the salad with the secret Caesar dressing and homemade croutons off in the kitchen and head out for the back deck, which is set up nicely with matching retractable awning and upholstery fabric by Sunbrella for Eclipse.
You notice that the large back deck is almost as cool as the indoors and look up at the expansive retractable awning by Eclipse. As you shift on the lounge to eat your plate of great summer food, you realize how relaxed you are. The Ultimate Eclipse retractable awning is covering the entire deck, which makes this a true backyard oasis.
The Ultimate Eclipse can shade the large deck space with superior strength, blocking up to 98% of the sun's UV rays, and when the sun can't get through the windows and walls, the indoors temperatures will stay cooler too, saving you money on energy costs. The strongest awning available in the industry is the ultimate in form, the ultimate in function, the Ultimate Eclipse.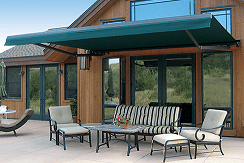 Eclipse Shading Systems® brings the finest and most durable retractable awning available to homes and commercial structures. The world class Ultimate Eclipse is the longest lasting, strongest built retractable awning available. The superior strength of the Ultimate Eclipse retractable awning provides problem free solar protection for many years to come.
That day of the last neighborhood potluck will linger in your memory for a long time because that's the day you decided it was the last time you would relax under someone else's awning without having one of your own to go home to. Today is the first day of the rest of your shading life. Find your local Eclipse Shading Systems dealer.
LIFE UNDER THE AWNING