Don't let another season come and go without shading for your home when Eclipse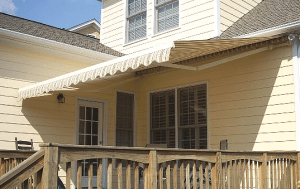 Shading Systems® makes it so affordable to purchase retractable awnings that are both functional and stylish. The Eclipse Lite is the most affordable retractable awning with the same high quality performance as its big brother, the Eclipse and the same outstanding quality at the Total Eclipse. The E-Lite retractable awning blocks up to 98% of the sun's damaging UV rays, protects your carpet and upholstering from fading, and keeps indoor temperatures cooler, which will save money on your energy bills. The economical high performing E-Lite Eclipse retractable awning is available in widths from 10 to 20 feet with a white powder coated frame finish. The E-Lite retractable awning comes with a limited selection of high quality solution-dyed fabrics and at an additional cost, you can select the color and pattern that you want from over 200 solution-dyed acrylic fabrics.
When you purchase your Eclipse Lite retractable awning, it can be mounted on an outside wall, under a soffit, or to the roof of your house. The Eclipse Shading Systems E-Lite motorized retractable awning is our most popular, most economical, and most affordable home awning system. Get the most out of your outdoor living space with Eclipse Shading Systems' E-Lite retractable awning. Providing homeowners with value and affordability, the Eclipse Lite retractable awning is the most economical high quality solar shading system available and will provide you with more outdoor living space, protection from the sun and light rain, and energy savings. The Eclipse Lite retractable awning features Advanced Belt Technology and carries a standard 5-year frame warranty.
THE ULTIMATE SUNBLOCK™