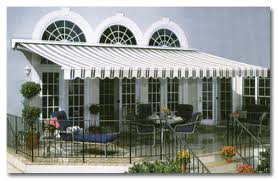 It's been a heat record-breaking summer and temperatures continue to soar across the nation with no real relief in sight. July is typically the hottest month of the year in most parts of the US and we just want to find ways to keep comfortable and not break the bank on energy expenses.
The results of a recent energy study commissioned by the Professional Awning Manufacturers Association (PAMA) confirms that heat gain and cooling costs are effectively reduced with the use of exterior solar shades and awnings. This new energy study included 50 cities across the country and proves that awnings reduce home energy consumption during a hot year by more than 52%. Without exterior shading, energy is lost through glass windows, glass doors, and through walls. Eclipse retractable awnings, solar shades, and drop screens help to create a more energy efficient home and protect your family from the harmful UV rays of the sun on their skin.
Custom made Eclipse retractable awnings and shading systems reduce sunlight and glare by as much as 94%, protecting your carpets and upholstery fabric from fading. You'll know you made the right investment in your home when you see how attractive and functional retractable awnings can be as well as the reduction in your summer energy bills. Awnings enhance the comfort of your home and are affordable, durable, and energy efficient.
Call your local Eclipse Shading Systems® dealership and find out about our 5-Star overall ratings, extended warranties, and the Eclipse Promise. Eclipse designs, delivers, and installs the highest quality shading products at the best possible price. Eclipse is your source to discover the best advantages for state of the art shading products and accessories with unmatched customer service. Eclipse Shading Systems has retractable awnings, window awnings, outdoor solar screens, indoor solar screens, and all the accessories available to enhance your shading experience. Summer is the perfect time to get outside with your family and friends to enjoy the weather and outdoor activities. Regardless of where you spend the summer, have a cooler one with retractable awnings from Eclipse Shading Systems.
THE ULTIMATE SUNBLOCK™