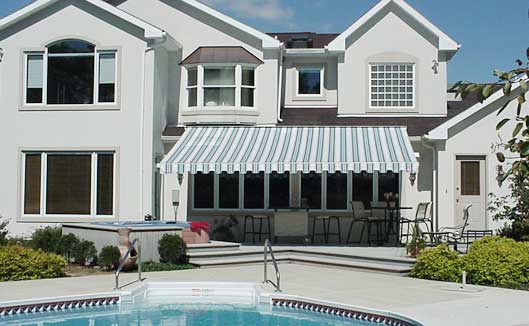 Let's go with the most obvious answers first: Relief from the heat of the sun. In many areas of the US, sun relief is an important factor in comfortable living for nearly half the year. For most, this necessitates some type of outdoor shading material to provide a shield from heat and dangerous ultra violet rays, avoiding the risk of developing skin cancer. The sun's rays heat your deck or patio and pass through the windows, increasing indoor temperatures. If the porch is where you want to spend your time, it makes sense to relax, stay cool, and protect yourself and your family with retractable awnings from Eclipse Shading Systems®.
The perfect awning takes a combination of durable innovative technology and the most effective shading fabric. Eclipse Shading Systems products and services receive consistent 5-Star overall ratings. Eclipse manufactures, sells, and installs the best custom-made awnings in the industry today with the widest variety of colors and designs to match your personal taste. We offer high quality, high performance awnings and shading at competitive prices. Eclipse retractable awnings are built to last, adding style, functionality, reliability, and durability to your home.
Shade is the most effective way to block UV rays from harming your skin. Shading fabrics vary in UPF – ultraviolet protective factor, differing in their ability to absorb and block UV radiation, the most harmful rays of the sun. A UPF of 50+ will block 97%+ of the ultraviolet rays. Sunbrella® awnings fabric, manufactured by Glen Raven, is used in many Eclipse awnings are GREENGUARD certified, helping to protect our environment. Sunbrella fabric has been awarded the Skin Cancer Foundation Seal of Recommendation. Escape from the heat with Eclipse retractable awnings and window shading systems.
THE ULTIMATE SUNBLOCK™