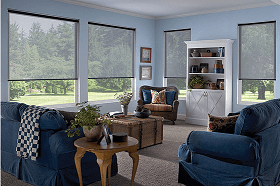 Fashion, function, and year round sun protection are yours with shading solutions like Eclipse Shading Systems interior solar shades. Eclipse interior solar shades give you the control you want over how much sun gets in and let you keep the lovely view of the great outdoors. Advanced solar shade fabrics can block up to 99% of the sun's rays from entering the room and still allow you a clear view. Eclipse Shading Systems offers a variety of interior solar shades with selections of certified GreenGuard® fabrics, manual or motorized operation, and choices of color and frame finishes, all with a 10 year warranty.
o Eclipse Interior 3" Shade: Light Duty. Widths to 10', Drops to 9'
o Eclipse 4" Interior Solar Shade: Heavy Duty, good for larger residential windows or commercial applications. Widths to 12', Drops to 11'
o Eclipse DuoShade System: Two-shade operation with multi channel control. Solar control, Total privacy. Widths from 18" to 102", Drops 12" to 120". Optional black out side tracks
Eliminate the intensity of sun glare year round with Eclipse Shading Systems interior solar shades that absorb and reflect up to 95% of the sun's heat and keep glare away from the building. With interior solar roller shades, you will save money on cooling costs and protect indoor furnishings from the effects of sun fading.
Many interior designers and architects now include solar shading products in their plans and designs to protect their clients from the sun and to add appeal to the look of the home or office settings.
When you talk to your local Eclipse Shading Systems dealer, you will be confident you are making the right investment in your home or business with the high quality of Eclipse interior roller shades – eye glasses for your windows! Control the sun. Keep the view.
THE ULTIMATE SUNBLOCK™